Are you an Executive, Business Owner, CEO, President, Professional Athlete, or in Management?
As your coach my sole purpose is to help you reach your goals and give you an unbiased perspective to reach and maintain elite levels of thinking and performance. Below is a powerful video from Eric Schmidt, the former CEO of Google. *Coaching slots are limited.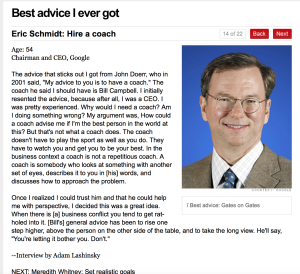 Research on Coaching
There is a 99% satisfaction rate with people who have had a certified coach.
People who hire coaches stay with their coach for 3 to 5 years.
There is as much as a 500% return on the coaching investment. The accountability role of  a coach helps individuals perform at much higher levels. This also depends on the quality of the coach.