Have you ever walked into a business and noticed employees doing things other than their job? For example, these disengaged employees might be talking on their phone, looking at their phone, or simply not focused on their customers. We've all noticed them, but how do disengaged employees really impact a business?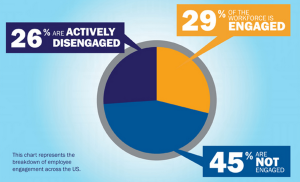 Well, first of all, disengaged employees cost businesses a lot of money. Once you add up the absenteeism and the cost of hiring and retraining, or the customers you lose as a result of their lack of customer focus it can add up quick! For example, many businesses spend $100,000+ during certain months of the year because of staff absenteeism.
When employees are disengaged it impacts more than you know. A famous study called the Wolf study found that when mom or dad have a bad day at work their children are more likely to misbehave. Also, believe it or not marital intimacy is also impacted dramatically when staff are not engaged at work!
How do you turn disengaged employees into highly engaged employees? Well to start, you need business leaders who understand and recognize how "Employee Engagement" impacts their business. Next you need to put a plan together around focused training for staff and leadership. We can help with this plan. Give us a call at 1 (800) 410-1914 or click the book appointment button.